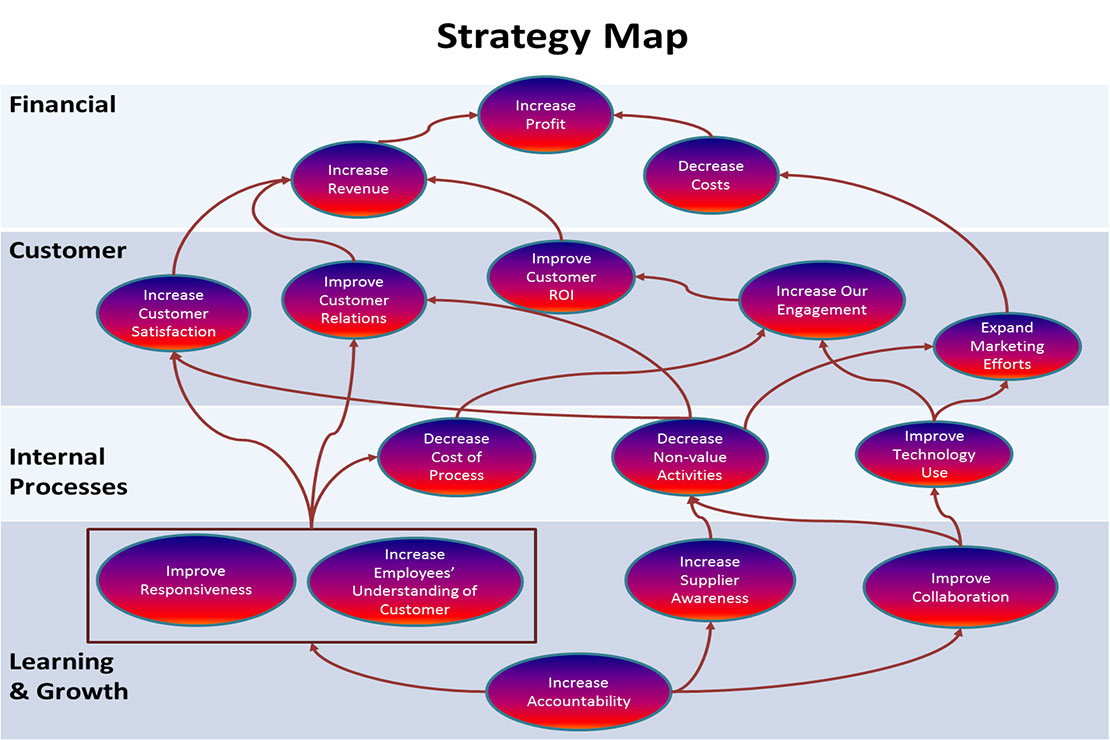 Balanced Scorecard Implementation
We are experts in Balanced Scorecard design, development, deployment and use.
We have deployed scorecards and Strategy Maps in countless organizations worldwide.
Executing and managing the strategy is critical to becoming a High Performance Organization and to continuously, consistently delivering superior results. The Balanced Scorecard has withstood the test of time as the leading process for strategy execution. However, developing and implementing a Balanced Scorecard is not a simple matter. It requires a comprehensive understanding and full engagement of the organization.
The Balanced Scorecard methodology is not a "one size fits all" approach; it must be skillfully adapted to fit your organization. Our team knows the Balanced Scorecard and Strategy Map methodology intimately – Mitchell Weisberg and others were on the original team in 1991 at Nolan Norton & Co and worked with Drs. David Norton and Robert Kaplan in the development of the Balanced Scorecard. We work with your organization to adapt the original Balanced Scorecard framework or any of the major methodologies in use (Palladium, Balanced Scorecard Institute 9 Steps, Niven, etc.).
The power of the Balanced Scorecard in its ability to create alignment of all resources, processes and people to the strategy. This is accomplished through the use a comprehensive set of measurements that fall within a set of balanced perspectives on the organization – Financial, Customer, Process and Learning/Growth. When those metrics are communicated and followed, the executive leadership can measure how the organization is performing against the strategy and make proactive adjustments to consistently deliver expected results. Likewise, employees can make accurate decisions that align their behavior to optimize their effectiveness and efficiency.
Our Balanced Scorecard service is comprehensive from strategy clarification, scorecard and strategy map development, deployment, and through governance. However clients have also requested and found value in one or several focused areas within our Balanced Scorecard service portfolio:
Balanced Scorecard Services Include: Balanced Scorecard Development, Strategy Map Development, Measurement Development or Refinement, Measurement Adoption, Scorecard Deployment, Initiative Prioritization, Strategy Execution or Scorecard Governance, Scorecard Software Selection, Change Management, Getting Started, Balanced Scorecard Training
Strategic Alignment
+ Balanced Measures
= Awesome Execution
… and Exceptional Results